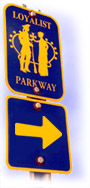 Parks along the Loyalist Parkway

Eastbound

Carrying Place

A parkette just south of the bridge over the Murray canal with a small display of canal history.
A municipal park at the intersection with County Rd. # 64.

Ameliasburgh

A municipal park with beach on a small lake behind the museum.

Hillier

North Beach Provincial Park has day use accommodation including swimming.
One km cast on Station Road is a small municipal park.

Wellington

Vintage Shores, just west of town has a lakeside view of the sandbanks.
In the centre of town, a municipal park with extensive play structures, tables and washrooms.
Near the eastern end of town, on Beach Street, a lakeside park with tables and sand beach.

Bloomfield

On Mill Street, a park on the old Mill Pond.

Picton

On Union Street, at Macaulay Heritage Park, picnic tables and public washrooms.
On Union Street at PERCA park, picnic tables and small pond.
West of Picton at McFarland Park a lakeside park with tables, washrooms, and boat ramp.

Glenora

At Lake on the Mountain a scenic look-out, lakeside tables and public washrooms.

Adolphustown

At Adolphustown Park, a large camping and day-use park with swimming, tables and boat ramp.

Lennox Power Station

At County Rd. # 8, courtesy of Ontario Hydro, is a new park on the shore. No water access, washrooms or picnic accommodation.

Bath

Picnic tables, shelter, portable washrooms, boat ramp and swimming at Finkle's Park.
In the town centre, tables, swimming and washrooms Centennial Park.

Roadside parks

Several turn-outs with scenic views along the lakeside road between Bath and Amherstview.

Eastern Gates

A lakeside park at the Fairfield-White House has tables and an opportunity to visit a very early settler's home.


About the LPA | The Loyalists | About the Loyalist Parkway | Adjacent Communities
Plaques | Parks | Where is the Loyalist Parkway? | Virtual Tour | Home
Unless otherwise noted, writing and photos ©Court Noxon 2001.