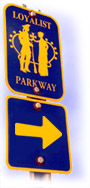 Virtual Tour
As an alternate route between Trenton and Kingston the Loyalist Parkway offers a wide choice of accommodation, sightseeing and recreation for the whole family. A one meter wide paved shoulder has been provided for cyclists along its length. There are over 40 listed Archeaologic sites and at least 125 notable heritage buildings adjacent to the Parkway.
Printed Guide Maps of the Loyalist Parkway are available from our office (address below) or from most tourist services in the region.
Getting Around on the Virtual Tour


Clicking the crest will bring you
back to this map
|

Will take you to the

next location West



Will take you to the
next location East

|
Kilomarkers tell you approximately
where you are on the map
Choose a location below to start your Virtual Tour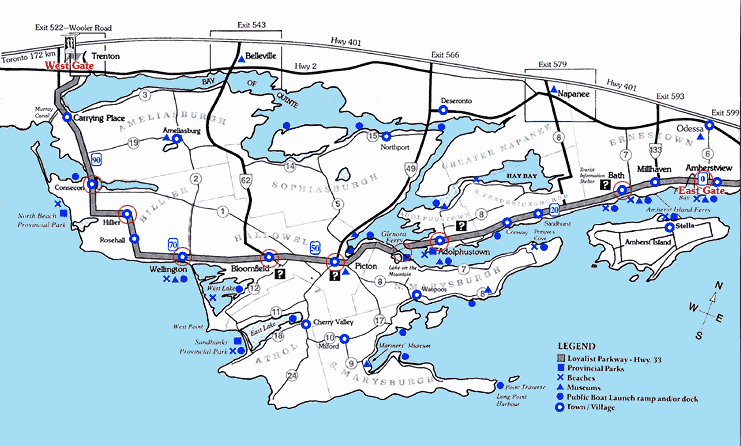 For printed Guide Maps and more information, the Loyalist Parkway Association can be reached at:
289 Main Street, Bloomfield, Ontario, Canada, K0K 1G0
Phone (613) 393-3215
e-mail secretarialhilary@hotmail.com
About the LPA | The Loyalists | About the Loyalist Parkway | Adjacent Communities
Plaques | Parks | Where is the Loyalist Parkway? | Virtual Tour | Home

Unless otherwise noted, writing and photos ©Court Noxon 2001.