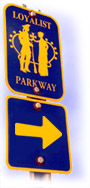 Adjacent Communities


Pumpkin Fest- mid October, Wellington
Photo by Bill Greer

The area through which the Parkway runs has a wide range of cultural features, not only in historical context but in present time. Varied and spectacular scenery, rural traditions and natural assets have made it a haven for artists and craftspeople as well as for retirees from adjacent urban centers.

For information on festival dates and locations refer to the websites of the municipalities shown below:
About the LPA | The Loyalists | About the Loyalist Parkway | Adjacent Communities
Plaques | Parks | Where is the Loyalist Parkway? | Virtual Tour | Home

Unless otherwise noted, writing and photos ©Court Noxon 2001.